Do You Have A Tree Service Project We Can Help With?
Tree Trimming in Austin, TX
We have been offering high quality and affordable Austin tree trimming services for over 25 years.
We work hard to deliver tree trimming services and tree removal services that go above and beyond what our customers would normally expect! Be sure to inquire about our military and senior citizen discounts.
Committed To Quality
We provide tree trimming and pruning for better tree health, aesthetics, clearing roof lines, & promoting quicker growth.
We Honestly Care
We offer full tree removal services from dead tree removal to stump grinding services with a strong emphasis on safety.
Tree Health Is Important To Us
Fully certified, specializing in tree planting/removing/relocation, oak wilt treatment and fertilization.
Critical To Proper Tree Health
Timely tree fertilization is important not only for young trees but mature trees as well. We offer year-round fertilization.
Check Out Our Video Below
How Our Tree Trimming Services Differ
We offer Austin, Cedar Park and Round Rock tree service with low prices and an honest "don't pay me until I've completed the job" approach.
We are priced 20-30% below our competitors

We are honest and clean cut

We are family owned and operated

We have many great references and reviews

We never leave the job until 100% customer satisfaction

We have over 25 years experience

We are fully insured for our customer's protection

24 hour emergency services
Our Core Values
We are committed to the client. The phrase, "The customer is always right" is somewhat cliche but we really do believe and value it! It is you, our customers, that makes a business succeed and good communicating / listening is key.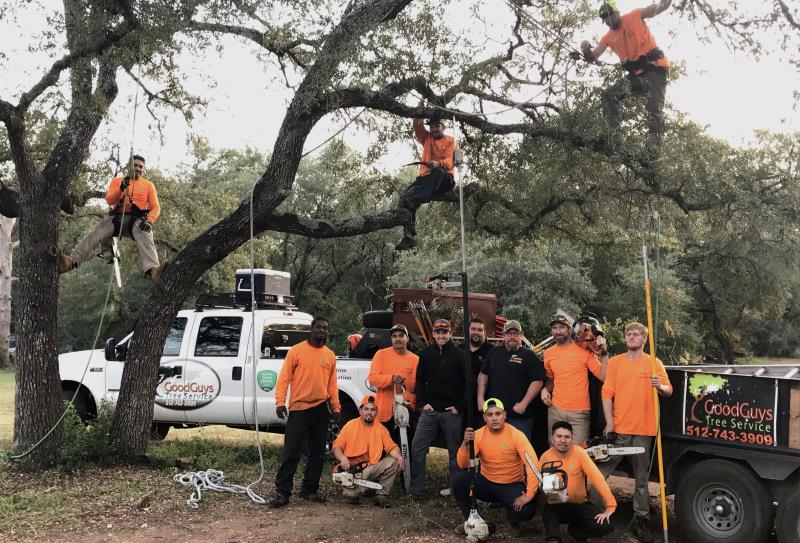 Latest News
Review our recent articles from the blog below.
Recently we have been digging around online and elsewhere for old vintage photographs of tree servicemen and some of the equipment that was used back in the day. Some of the photos are truly
Don't Be Fooled by Pleasant Fall Weather. Winter is Coming Fall is a favorite time of the year for a good number of us here in Texas. Cooler weather, changing colors, football season, and
While the city of Austin was lucky to avoid the worst of the damage caused by Hurricane Harvey, the effects were still felt. One of the most notable examples of this is tree damage. With
We Truly Care
At Good Guys Tree Service, we actually care about the health of your trees and take all of the necessary precautions to ensure a safe and proper Austin tree service to satisfy whatever your needs may be. We take our time and provide very thorough work, yet we are actually quite affordable in comparison to our competitors. It is our mission to serve you and we cater to the greater Austin and surrounding areas: