Have Them Pruned Up First
If you plan to wrap your trees with Christmas lights this year, be sure to have them pruned prior to wrapping them with lights. It will save time wrapping the lights and your trees will look much cleaner when lit up at night.
With the Holidays comes the task of putting up Christmas lights and preparing for holiday parties and guests.
Make sure your trees look their best to showcase your yard and home.

Prepping Your Trees Ahead of Time
As a general rule, most Central Texas Oaks, as well as other trees, are wrapped the full length of the main trunk and approximately 3-4′ high in the extending branches. Branches should be selected to allow for an even, balanced distribution of light. Wrapping trees is much easier when they are given a class 1 prune to remove unnecessary sucker branches and water sprouts, thereby allowing the wrapping of lights to be easier and more efficient.
Good Guys Tree Service specializes in Central Texas trees and are experts with pruning Live oaks in particular. Give us a call to schedule a free no obligation estimate.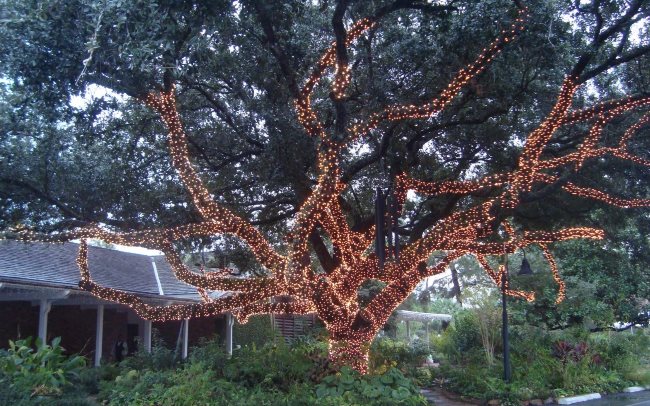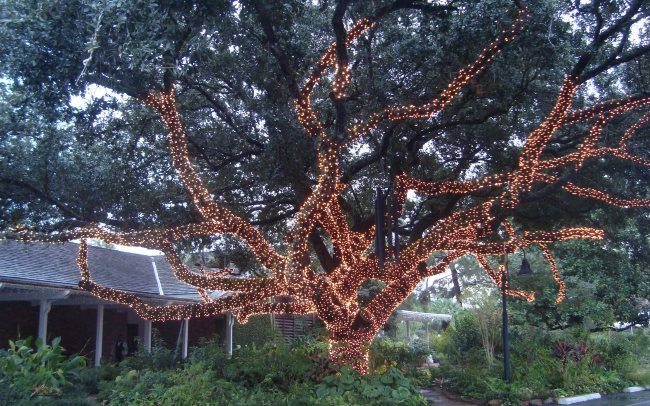 Guide for selecting Christmas lights to wrap your trees
Here are some basic measurements you need to take into consideration.
Measure the circumference of the tree trunk, as well as the circumference and count of any branches you wish to wrap with lights. Determine how much spacing you want both between each light bulb on the string, as well as how far apart you plan to wrap the light strings.
A 6″ bulb spacing is popular for wrapping trunks and branches, with an average spacing of 2-3″ between strings. Divide height by desired string spacing, multiply total by circumference to calculate total string length needed.
Example:
4'H trunk / 3″ spacing = 16 x 2′ circumference = 32′ of lighting
3'L branch / 3″ spacing = 12 x 6″ circumference = 6′ of lighting per branch
Total lighted feet will be approximately 56′ for the trunk and four branches
Below is a chart to help with choosing the proper number of lights to wrap outdoor trees.