Our #1 priority is an honest commitment to the highest quality tree service possible for the health and aesthetic of your trees. Feel free to read through our reviews and contact us anytime!
Who We Are
If you require any kind of tree service in Austin, Texas, then look no further than Good Guys Tree Service. As our name suggests, we are here to provide a reliable, friendly tree service throughout Austin and the surrounding area.
What We Do
Whether you require a spot of trimming, a complete removal, or tree plantings, you can expect to find some of the most competitive rates from tree service provider in and around Austin.
Should your trees be starting to look rather unhealthy, need some maintenance, or you are worried they could become a hazard, we are here to help.
We are a family-owned business that prides itself on providing the best possible service available not matter what tree services you may require!
Our tree services include:
Trimming /Pruning
Tree & Stump Removal
Tree Fertilization
Tree Planting
Roof Clearing
There is no job too small or large for us, and you can rest easy knowing we operate as a fully insured business – customer protection is something we take very seriously!
Over 25 Years' Experience
There are many options when it comes to a tree service provider in Austin, Texas, but none carry the reputation and experience we do. This because we make a point of not just meeting customer expectations, but completely exceeding them!
Having operated for over 20 years, we have become one of the most prominent and well-respected Austin tree service specialists, and in that time, we have gained a wealth of knowledge and experience that helps us provide the best service possible.
This is all down to hard work, a friendly service, and a team of skilled works that can meet any tree service demands in the Austin area!
Check out Yelp and Google Reviews to see exactly why we are regarded as one of the best tree service specialists in Austin.
An Austin Tree Service You Can Rely On
We remain one of the most professional and reliable tree service providers in Austin, taking the upmost time and care with every job we perform.
Tree services such as our own do not just help your trees look better by making them healthier, but we can also create much safer environment for your family!
There are many reasons why you may need our services and no matter what they are you can rest easy knowing that we provide an experienced team of professionals that are knowledgeable in all areas of the field.
We are never happy until our customers are, which is why we will never complete a job until you are 100% satisfied. It's because we are a family business, Austin is our home, and want to offer its people only the best tree services possible.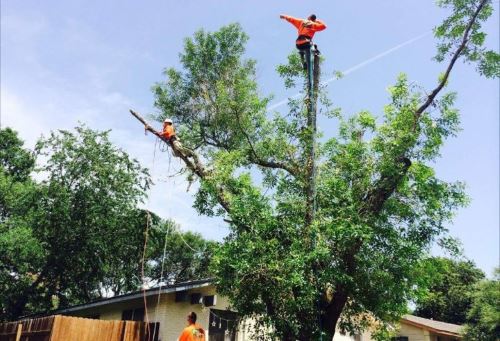 The Most Competitive Tree Service Rates in Austin
There are many reasons we carry a strong reputation among Austin tree service providers, from our strong work ethic to friendly approach to every job, but perhaps the most notable of these is our incredible rates.
Compared to our nearest Austin tree service competitors, we can offer prices that are between 20-30% lower, meaning not only do you get a reliable service but also a very affordable one!
Any questions? Feel free to contact us for any Austin tree service inquires you may have – we are more than happy to offer you a free quote on any service!
Why Choose Us?
Mon. – Sat., 7am – 6pm
24 hour emergency service
You are welcome to contact us anytime for a free quote: